A ceramic is a material that is neither metallic nor organic. It is a crystalline, glossy, or both crystalline and glossy light stone that is typically hard and chemically non-reactive. It can be formed or densified with heat. It has different types and can be used for various purposes. Major 3 types here include:
Earthenware

Stoneware

Porcelain.
These types vary following the clay that is used to create them as well as the amount of heat that is required to fire them. Ceramic is a good material as it endures great hardness and strength. It is considerably durable and has low electrical and thermal conductivity. Ceramics are good insulators so they can be used as tile floors. They possess chemical inertness which means that it's not very expensive cleaners that can be used for their proper maintenance.
With little tactics, you can clean your ceramic tile at home. You just have to
fill the bucket of hot water

add half a cup of vinegar and half a tablespoon of test soap

Mop it

rinse with water
Don't use too much soap or soapy residue as it will make your floor look dull. Mop out the floor and clean the mop under hot running water to remove any debris from last time's usage. Mopping the tile floors will maintain their shine.
Best Cleaner for Ceramic Tile Floors
Ceramic tile floors have their shine. A simple soapy solution can help you keep your ceramic floors shiny for a long period. The lustrous part of your tile floor is also kept intact if you clean it regularly. To fix this solution you just need to add some soap to a bucket of warm water then mix it thoroughly to uniform the soapy mixture. With the help of a mop, you get to apply the soapy solution to your ceramic tile floors to remove any debris as well as bacteria.
A simple few steps will also help you your success with your help
Sweep the Tiles. Make sure you get into the corners, where dirt tends to pile up.

Combine the cleaner with warm water.

Run the mop over the floor in even

Gentle strokes.

Change the water regularly.

Clean the grout.

Dry the floor with a clean cloth.
However, if the dirt is strong enough, it requires fresh professional cleaners. With a little research, you can get the list of the best tile floor cleaners within no time. A few of the types of cleaners that will save you from further damage include
Dr. Beckmann Stone & Tile Floor Cleaner.

Rejuvenate floor restorer.

HG shine restoring tile cleaner.

Cif Floor Cleaner.

Bona Stone Tile & Laminate Floor Cleaner.
These are considered to be the best tile floor cleaner liquid that makes your floor look shiny and offers results for a long-lasting period.
Ultimate Finish Stone Tile and Grout Inc. Is it in Las Vegas that offers you the best ceramic tile floor cleaning service at affordable prices and guides you regarding the best cleaners that you get used for tiles as per your house environment. Only choose cleaners that offer cleanliness to your house and health to your environment.
Best way to Deep Clean Tile Floors
The best way to deep clean tile floors is by sweeping and mopping regularly after every few days. Moving dirt and debris can help you prevent penetrating the surface of your tile and causing the link over time. Regular maintenance is the only thing that can save your tile floors from long-term malfunction.
Hiring professionals has its advantages. The cleaning services they offer are unmatchable.
They clean and clear the tile floor of all the debris, dirt, and dust through a vacuum or soft bristle broom.

Then the cleaning solution is sprayed as a light mist across your floor section by section. A smaller section is the key.

Mop up in the sections

Dry properly
Dirty ceramic tiles are less aesthetically pleasing. Using proper cleaners can enhance the beauty and durability of material as an affordable alternative to marble or granite.
You want to make sure that you seal your tiles perfectly especially if you're putting them outside. Sealing will prevent ceramic tiles from looking pristine after cleaning. Regularly mopping will also help. Use only soft mops and warm water to clean the travertine with the help of specific floor cleaners.
It is best if you avoid using a vacuum on your tile floor as it may cause scratches or chips to the surface of your floor tiles. Instead, a soft broom should be used. Avoid any acidic material such as vinegar as they can eat away the surface of your stone making it dull over time. If you're going to use a new cleaning product, always use it in a small area first as a tester before using the product everywhere this can save you from irreversible damage.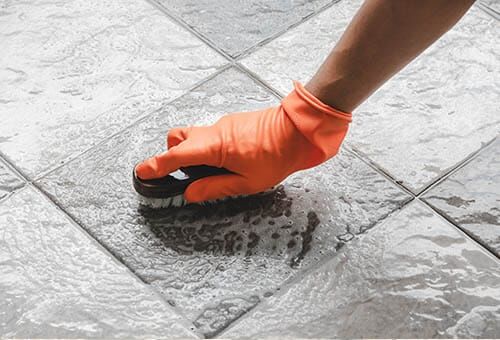 Tile Floor Cleaning Solution
Ceramic tile floors require proper maintenance. If you want to keep intact your long-term investment, you should go for the best tile floor cleaning solution. These best tile floor cleaners not only deep clean your floors but also lift away any stains and worn-in grind without damaging the grout or leaving a residue behind.
Experts at Ultimate Finish Stone Tile and Grout Inc. search for the best tile floor cleaners that are available online before we use them for our customers. The ease of use, effectiveness, and formulation are checked before using as a tile floor cleaning solution and help you choose the best overall starter kit with a simple design that is easy to move and has absorbent pads that trap dirt. These professionals use up-to-date techniques.
here are a few tile flooring solutions that are the top picks of ceramic tile floor cleaners for 2020
Bona stone, tile and laminate floor cleaner

Lysol cleaner

Hoover multi floor plus hard floor cleaner

Black diamond stonework marble and ceramic tiles floor cleaner

Aqua mix concentrated ceramic tile floor cleaner

Stone tech mold and mildew stain remover

Swiffer WetJet Spray Mop Floor Cleaner Multi-Purpose Solution

Stain master Multi-Surface Floor Cleaner
These products can ensure safety as the best ceramic tile floor cleaner product for your house. Before choosing any of them go for the market reviews at the top brands and top models and read our ceramic floor cleaner guides. Make sure that you're using the best for your house and your environment. Only make wiser decisions for your home and children. Maintain the aesthetic beauty of your tile floors.
Best Tile Floor Cleaning Solution
Different floor restoration companies offer different price ranges for different floor cleaning solutions. You have the privilege to choose the best for yourself and your long-term investment. Ultimate Finish Stone Tile and Grout Inc. offer the most affordable and suitable tile floor cleaning services to ensure the beauty of your home at an affordable price range.
If you are taking deep tile cleaning services, then you can have a strong active cleaner after which the professional removes and rinsed the floor well to remove all the traces of the cleaner. Ultimate Finish Stone Tile and Grout Inc. on the other hand can also use a pH-neutral cleaner as it contains a small amount of stone or linseed oil and is good for regular maintenance cleaning.
If you're cleaning your floors on your own, you came to choose any of the time slots as per your requirements
Everyday cleaning will be less aggressive as you clean stone regularly without leaving any dust or grime behind for long-term damage. Weekly cleaning will require warm water or a soapy solution to clean the dust while if you're going for monthly cleaning, then it is best if you hire professional stone floor cleaners with up-to-date equipment and techniques.
Ultimate Finish Stone Tile and Grout Inc. is the best option for your ceramic floor cleaning services in Las Vegas at an affordable price range. You can contact us to get benefits from our professional stone cleaning services within your budget. Our professionals will be ready to make your tile floors look charming and appealing once again.
Which Ceramic Tile Floor Cleaners Are The Best?
There are many cleaners in the market that make a profit out of your pocket. Choose the ceramic tile floor cleaners with a great portfolio and customer reviews to ensure and preserve the beauty of your stone surfaces.
Are Home Remedies Enough For Ceramic Tile Floor Cleaning?
You can use detergent and water to clean the ceramic tile floors but choosing professionals is the best option to get the cleaning services to tackle your stone and tile with the help of up-to-date techniques.