Stone Tile Floor Cleaning Service in Las Vegas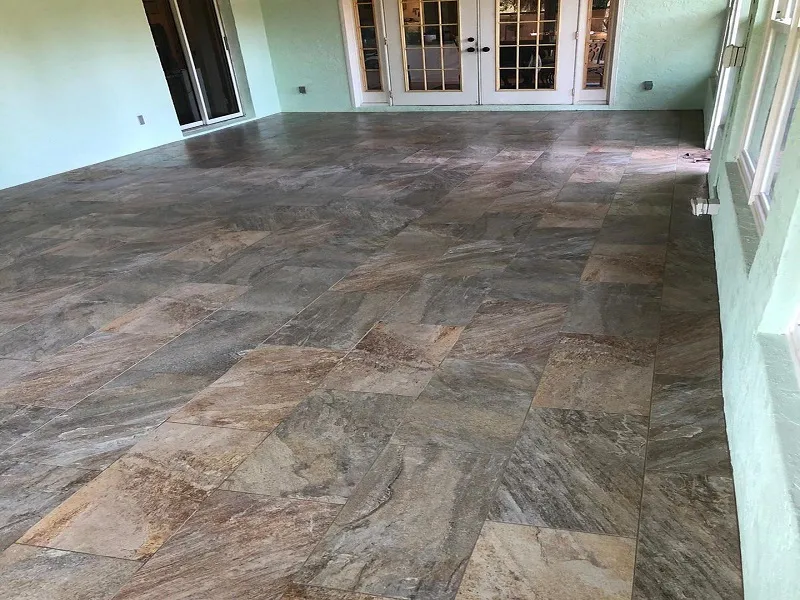 Due to the high sheen nature and unique appeal of stone flooring, stains, debris and blemishes tend to stand out—especially in high traffic areas. To erase these visible signs of wear and restore the prestige of your tile, it's best to hire professional natural stone tile floor cleaning and polishing services in Las Vegas, NV.
Ultimate Finish Stone Tile & Grout Inc. is ready to tackle your stone and tile surfaces with vigor, completely erasing dirt, debris, scuffs, stains and much more that may be marring your surface.
Contact Us services
Stone Tile Floor Cleaning
Stone tile and travertine floor cleaning can be a difficult and time-consuming task if not done properly. There are many different types of natural stone tile, each with its own unique properties and requiring different care and cleaning methods. Here are some tips on how to clean natural stone tile and grout:
How to clean natural stone tile and grout?
Mix a solution of 1 part vinegar to 4 parts water.
Dip a clean cloth into the mixture and wring it out well.
Wipe down the tile and grout with the cloth.
Rinse the area well with clean water.
Repeat as necessary until the tile and grout are clean.
Sweep or vacuum the floor to remove any loose dirt or debris.
Then mop the floor using a mild soap or detergent specifically designed for cleaning stone tile. Avoid using harsh chemicals or abrasive cleaners, as these can damage the surface of the tile.
If there are stubborn stains or build-up on the tile, you can use a soft brush and non-abrasive cleaner to scrub the affected area.
Rinse the floor well with clean water after mopping to remove any residue from the cleaner.
Finally, dry the floor completely with a soft towel to prevent water spots from forming on the surface of the tile.
Preventing Stains on Stone Tile Floors
Sweep or vacuum the floor regularly to remove dirt and debris.
Wipe up spills immediately.
Place mats or rugs at entryways to help trap dirt and moisture.
Seal the tile and grout periodically to help protect them from stains.
Following these tips will help you keep your stone tile floors clean and looking their best.
Tile and Grout Cleaning Service
Tile and grout are notoriously difficult to clean—and unfortunately, they're also notoriously quick at accumulating grime. Rather than spending time and effort scrubbing away on your hands and knees, give us a call for tile cleaning service in Las Vegas, NV. We'll do the hard work for you, restoring a clean, pristine appeal to your tiling. Whether it's the tile in your shower, the tile on your flooring or decorative tile somewhere else, we're equipped for the job.
Tile and grout get dirty fast and will only continue to get dirtier unless they're properly and thoroughly cleaned. To prevent the buildup of dirt, grime, bacteria and other debris and discoloration, look to us for routine cleanings! We offer our tile and grout cleaning service in Las Vegas, NV at whatever interval works best for you, at prices that make it affordable to keep your surfaces clean.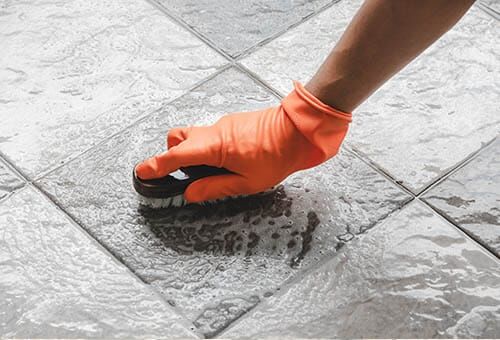 Don't let your bathroom grout become flanked by mildew or your decorative tile marred by water stains. Ultimate Finish Stone Tile & Grout Inc. provides the cleaning services your surfaces need to sparkle. We specialize in tile and grout, however we can properly clean any stone surface you may have.
Reach us today at 702-456-7706 to schedule tile and grout or stone cleaning services, or to inquire about routine maintenance programs for your surfaces.
Q: How is stone tile floor cleaning done?
A: Stone tile floor cleaning is typically done using a combination of high-pressure steam cleaning, specialized cleaning solutions, and scrubbing equipment. The goal is to remove dirt and stains from the surface of the stone without damaging it.
Q: Will stone tile floor cleaning damage the stone?
A: If done correctly, stone tile floor cleaning should not damage the stone. However, it is important to use the appropriate cleaning products and techniques to ensure that the stone is not damaged.
Q: How long does stone tile floor cleaning take?
A: The length of time it takes to clean stone tile floors depends on the size and condition of the floors. A typical cleaning job can take several hours to a full day.
Q: Can I walk on my stone tile floors immediately after cleaning?
A: It is best to avoid walking on stone tile floors immediately after cleaning to allow the floors to dry completely. The drying time can vary based on the type of stone and the amount of water used in the cleaning process.