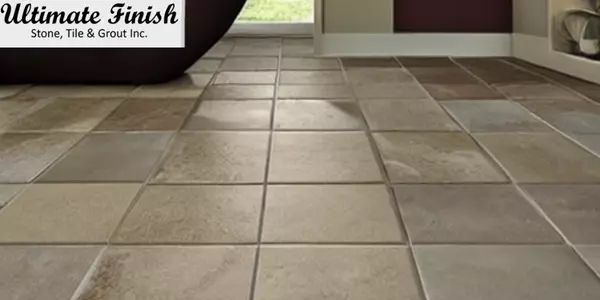 Stone Tile Flooring, When it comes to tile, two kinds are quite similar—natural stone and ceramic. They're both hard surface materials with comparable characteristics and durability. They're both also made from natural materials, installed the same, and require the same level of care. Ultimate Finish Stone Tile and Grout Inc. will provide you the deatiled infromation about the stone, tiles and Grout. Natural stone and ceramic tile each have their benefits and drawbacks, depending on where they're installed. Natural stone is exactly what its name says it is. A non-man-made, all-natural material straight from Mother Earth! And because of how natural it is, it can work all over your home. So, let's get into the different types, the advantages and disadvantages, and the great ways to include them in your home!
Types of Natural Stone
Travertine
Travertine dates back to 3200 BC in Egypt and has been a popular material ever since. It's an extremely hard, durable material that can stand up to high traffic. And its appearance looks exactly as though it's been around for centuries, making it a classic, timeless material for your home.
Marble
No matter how much time goes by and how often home décor trends change, one thing will always stay elegant—marble tile. It's the leader of natural stone and has been the go-to building material since the dawn of civilization. There are many different, beautiful variations with inconsistent veins that make it so unique. It's also nice and dense, making it a good choice for high-traffic spaces.
Granite
Granite is an igneous rock formed under very high heat and has a crystalline structure instead of a layered structure like a heavy, dense rock. The tile that's made from it is quite dense, giving it a similar strength as porcelain tile. It's a great choice for flooring and countertops.
Sandstone
Sandstone is a beautiful natural stone material that's popular for its distinctive style. It mimics the look of beach and desert sand (hence the name, sandstone) with the reds, golds, browns, and tans it comes in. These tones can add the perfect decorative touch to a room.
Slate
Slate is a sought-after material that has functional qualities. It's one of the strongest natural stones that have distinct durability that makes it resistant to cracks, scratches, breaks, and chips. It's also available in a variety of colors that will help enhance the design of any space it's used in, naturally of course.
Advantages
There are many practical, yet beneficial reasons why natural stone is a good choice for your home:
Each piece is a unique creation straight from Mother Earth, which helps make your space unique and one-of-a-kind

Natural stone is also raw and eco-friendly.

It's also known to be durable and easy to maintain.

The natural porosity offers noise insulation which will help your home feel calm and serene.
Disadvantages
Like any material, there are some drawbacks, too:
Even though the porosity helps reduce noise, it's not a stain-proof material. Each type of natural stone has a different absorption rate. Sandstone is the most porous natural stone. Travertine and slate have a medium absorbency level, while granite is relatively closest to being waterproof.

Some polished natural stones, like marble, can scratch very easily

Also, some are very brittle and will chip easily
Places/Ways to Use Natural Stone
Fireplace:
Cozying up to a natural stone tile on a cold, winter night is like romantic bliss! Even if you already have an existing fireplace, adding this tile with its timeless look, sturdiness, and high resilience to high temperatures, will add beauty and value to this focal point of your space.
Backsplash:
Backsplashes can provide an instant opportunity to create a statement in your kitchen. And using natural stone for your kitchen backsplash is not only functional but can add an element of pure elegance to the space.
Feature Wall
Whether you want to install a feature wall in the dining room, bedroom, family room, or bathroom, natural stone is a beautiful choice. The natural stone options for this type of installation are rather limitless as feature walls don't tend to be subject to the same wear and tear as other surfaces.
Showers
Another perfect place to use natural stone is in the shower. With today's bathroom trends leaning towards a fully tiled walk-in shower, natural stone can transform an otherwise functional space into a spa-like retreat. However, it does need some extra special care when used in a shower, like using a sealant on it since it's a very porous material. Asking one of our design experts what the best sealant to use and how often it should be refreshed will help you better understand.
The next popular place to use natural stone is flooring and walkways. Natural stone floors are beautiful, incredibly strong, and extremely long-lasting. They are one of the only flooring materials that can be used both indoors and outdoors with ease. Now it's clear why the most ancient structures built with natural stone are still standing centuries later! So, no matter how you use it, in the end, with the natural stone you'll be able to design a peaceful retreat space that'll have you feeling at one with nature.
Stone Tile Flooring Kitchen:
Natural stone tiles have long been used in kitchen areas for centuries. Our "Flagstone" range emulates stone found in country cottages from yesteryear and covers all shades and textures of beige, grey and black and they are well suited to barn conversions and the cottages of today.
Pros and Cons of Natural Stone Tile Flooring in Your Kitchen
Natural stone tile is known for being classy and beautiful all thanks to wonderful Mother Nature. But, of course, like any other material, it has its good points and bad points. So, to help you decide if natural stone flooring is a good flooring material for your kitchen, let's get into the pros and cons.
Pros of Natural Stone Tile Flooring Kitchen
Long-lasting
Natural stone is a flooring material that is as hard as a rock, the name pretty much gives that away. Yes, it's a rock, making it a durable, long-lasting flooring choice for your kitchen.
Aesthetic Appeal
Since natural stone is a product of nature, the details are different when it comes to each piece, making each tile unique. And the wide array of sizes, shapes, and colors available in natural stone kitchen floor tiles offer an endless amount of kitchen design possibilities.
Easy to Clean and Maintain
When properly sealed, natural stone flooring is easy to clean and keeps looking fresh and new. Simple sweeping, dust-mopping, or vacuuming before wet-mopping with a pH-balanced neutral cleaner or warm water will do the trick.
Not Slippery
Natural stone is sturdy, durable, and provides good traction. It's not slippery like ceramic and other materials, which makes it a safe option for kids and pets, especially in the kitchen.
Cons of a Natural Stone Tile Flooring in Kitchen
Porous
Natural stone is porous and to help prevent it from staining and water damage, this type of kitchen flooring needs to be regularly treated with a sealing agent.
Chipping
While it is known to chip, some natural stone varieties, like slate, are relatively easy to fix when chipped. But repairs for other types of stones can be expensive and labor-sensitive.
Cost
Because it's a natural material, natural stone kitchen floor tiles are some of the most expensive flooring options. But, their luxurious look makes the expense worth it if your kitchen renovation budget allows for it, of course. So, with the pros and cons of natural stone flooring laid out for you, it's now easier to start deciding if it's the right flooring choice for your kitchen.
Outdoor Stone Tile Flooring:
There are many different types of outdoor stone tile flooring that look stylish and strong enough to last in outdoor environments. When selecting appropriate outdoor flooring tile for your backyard, front yard, poolside, and, patio decking, you need to take into account the function of the space as well as several other factors, including your personal preferences and the budget. It's also important to ensure that your tile choice will be able to withstand the demands of your local climate. Outdoor tiles are a great way to update the exterior of your home.
Choosing tiles for your flooring can have many benefits. Outdoor tiles can be very flexible because there are countless designs and styles you can choose from. Outdoor tiles are very easy to maintain as you just have to sweep or mop the area occasionally. Sun and rain don't damage them, unlike wood flooring options.
Many outdoor tile options are also slip-resistant ensuring a safer surface for you or your guests. There are natural stone tiles and tiles made from human-made materials like ceramic and porcelain. Outdoor porcelain tile is ideally suited for outdoors as it is extremely strong, hard-wearing, and frost-proof. It can be a long-lasting and modern-looking alternative to traditional paving products.
Porcelain tiles won't crack in weather extremes, and that makes them a smart choice for homes in cities with very hot summers or icy winters. Porcelain outdoor tiles are available in a wide range of patterns and textures. Many of these patterns greatly resemble natural stone, concrete, brick, rocks, or even wood.
Natural stone tiles are made from granite, limestone, travertine, and other natural stones. Granite tiles are very durable and are a good option for your outdoor area if you live in a part of the country that experiences significant weather shifts from season to season. Marble tiles are less hard and more porous, so they need sealing to help them withstand the weather and foot traffic. One of the most luxurious-looking outdoor tile choices is travertine, the material well-known for its beauty.
The outdoor slate tile might be softer than granite and marble, but it's still tough enough to suit any deck or patio area. Tiles made from slate are an excellent example of the stunning looks that natural stone has to offer. No two slate outdoor tiles are ever identical. Their colors and textures vary, so using slate tiles can create real visual interest. Natural outdoor slate tile has earthy hues such as gray, green, brown, tan, and orange.
One of the top choices in outdoor tiling is unglazed ceramic tile. It is an affordable option to complete your outdoor living space. Outdoor ceramic tile is ideal for use on the exterior, where it delivers weather resistance, resilience, and versatility. Outdoor ceramic tile can retain its beauty and durability even after centuries of wear and tear, which is why it's an ideal material to use for patios, outdoor kitchens, grilling areas, or even as a decorative covering for front porch stoops.
Check out bullnose tiles that are the perfect option to create an overall look for an existing space.
PATIO TILES
Patio flooring is often constructed with some form of masonries, such as poured concrete (sometimes stained or stamped), or brick or stone paver products. But you can also install patio tiles, and this option can give you more design choices. Outdoor patio tiles are manufactured from different materials and come in different sizes, textures, and styles.
Most porcelain tiles rated for flooring use can also work in many patio applications. Traditional ceramic floor tiles can be an appropriate choice for outdoor patios if they have a rating that indicates sufficient strength. Slate is one of the better choices for manufacturing patio floor tiles because this metamorphic rock formed under great heat and pressure is very hard and durable, and it is also very resistant to water.
GARDEN TILES
Do you want to change the look of your garden and add more style to outdoor tiles? Hard landscaping materials are an important element of garden design, and the garden tiles you choose are crucial for the final look of your outdoor space. Garden tiles need to stand up to extremes of weather and not be a slip hazard when wet. Here, you can find a wide range of gorgeous garden tiles, in cool, natural shades and durable, weather-resistant materials. They are ideal for use on patios and in other outdoor areas.
CHEAP OUTDOOR TILES
Here you can find different types of stylish cheap outdoor tiles made from high-quality materials. Our affordable outdoor tiles are both attractive and functional. Whether you are looking for cheap outdoor tiles made from porcelain, ceramic, or natural stone, we've got you covered.
PORCH TILES
A welcoming and well-designed home starts at the porch, and porch tiles are a great way to give your home an entrance you can be proud of. Adding porch tiles to an outdoor space makes a plain patio an attractive place for friends and family to gather no matter the season. Porch tiles made from natural stone can transform the look and feel of your space dramatically.
Black Stone Tile Flooring:
Black tiles evoke emotions of sophisticated and classic, as well as power, luxury, elegance, and simplicity. Black tiles' relaxing impact makes it a wonderful accent to any area where you want to unwind, such as a bathroom, kitchen, and bedroom.
Places To Install Black Tiles
There is no hard and speedy rule to installing them at a certain place or room. You can use them in multiple ways and make your home look picture-perfect.
When we talk about bathroom walls and floors, tiles come to mind first. Black bathroom tiles can be used to accentuate lighter accessories. This gives your space a completely different style, while still keeping the more perfect tones.
Black Stone tile Flooring in kitchen
When it comes to kitchen design, black tiles may be a wise option – not just because a deeper color can cover a multitude of kitchen backsplashes and countertops, but also because it's very flexible and can total a wide range of color schemes.
Black tile in living room
A living room is a place where you entertain guests and spend quality time with family over a movie or so. It can look great with tile floors. Living rooms again require good light and the black floor makes it look attractive. Polished tile made of black natural or artificial marble emphasizes the prosperity of the holder of the home.
Black tile in Bedroom:
To decorate the bedroom wall or floor, dark ceramic tile is often used to add a special atmosphere of passion. Such a bedroom requires appropriate luxurious furnishing. Walls are best trimmed with black fragments.
Black tiles in the office:
The black color in the office will create an atmosphere of seriousness and efficiency. For innovative people, it is better to use other tones. The office is issued in classical proportions (same number of light and dark shades). On the floor, a geometrical ornament or a continuous coating or glossy tile is appropriate. In the office of a large area, you can carry out zoning, combining black tiles to match the wall and furniture. You can also lay out tiles in unusual patterns.
Choose Black tiles from Lycos
Lycos lets you choose from a range of highest-quality tiles from leading floor tile manufacturers, wall tile manufactures, vitrified tile manufactures, and porcelain tile manufacturers. We have lots of Verities, designs, and Patterns in tiles.
Stone Tile Flooring Bathroom:
Natural stone Tile Flooring in the shower is largely about appearance. It looks great on shower walls, ceilings, and floors, as well as on the floor outside the shower. Where it's not so great is the areas of performance and maintenance. The stone must be sealed regularly, and it can be difficult to clean if it's highly textured or has wide grout lines. You can certainly use natural stone in a shower, but stick to stone tile or slabs and small grout joints, and choose a slip-resistant surface for shower floors. Seal the tile regularly, exactly as directed by the tile supplier. Types of Stone Used in Showers
Common types of stone used in showers include slate, marble, and granite, but other stone species can be suitable. Slate tile is perhaps the most widely used form of stone in showers. If sealed properly and cleaned regularly, it's an all-around good performer in this application. Just make sure to use the right type of slate for showers; some types can flake and deteriorate over time. White marble is a popular choice for showers because of its light coloring; most people like light colors in bathrooms.
Choose a high grade of white marble to ensure minimal veining and inclusions, which are vulnerable to damage in the shower environment. Lower grades of marble tend to have more veins and inclusions. Some marble has relatively high iron content and can literally rust, discoloring the stone, if the stone is not properly sealed. Granite, particularly in lighter colors, also works well in showers.
Many types of granite are not damaged by acid, ammonia, or alcohol, making them seem somewhat lower-risk or lower-maintenance than marble and some other natural stones, but this is a limited benefit since most people don't clean with alcohol or ammonia. As for acid, all stones should be cleaned with non-acidic or pH-neutral cleaners.
Most types of natural stone need to be sealed once a year. The best type and application of sealer depends on the stone, so this is something to learn from your stone supplier. Typically, a penetrating-type sealer is recommended for stone in showers. Topical sealers and enhancing sealers generally are discouraged because they can flake off over time or discolor the stone or grout in this wet environment. Stone sealed with penetrating sealer resists water to some degree, so the water may bead rather than soak in, but the stone still gets wet, and the zzz has to dry out between showers.
Stone Tile Flooring And Decor:
Things are getting even more exciting, and these trends round up and here to give you all the details. Get ready to see an emphasis on large wood-look planks, eye-catching patterns, shapes and designs, and lots of bright new looks. When planning a home improvement project, you might be somebody who is easily inspired. You might love the freedom that choosing the new interiors of your home brings. However, you could be at the other end of the spectrum, finding it difficult to get that perfect look and getting frustrated.
When it comes to kitchen floor tiles, there are many amazing products available on the market. However, you need to ensure that the floor tile you choose will meet the daily demands of the family kitchen, align with your general home décor, and adds to what you have in your domestic space. The same running bond pattern is used in this kitchen, but with very different results. Instead of polished marble, honed travertine – Yauri – is used.
The long grains of the stone, made by escaping water vapor when it was formed – follow the shape of the tile, further emphasizing the pattern. The honed surface allows you to see the depth of color in the stone better and lets the polished countertop stand out more. Most people are familiar with the gray and white marble quarried in Carrara, making it one of the most used stones of all time. For a look that nods to that classic appearance, but gives new depth and richness to a room, considers using Carrara's polar opposite – Bardiglio. Rather than a white stone with gray veins, Bardiglio's deep gray with a white vein makes a stunning contrast. Arranged here in a herringbone that shows off the veins, the stone floor creates a work of art in the bathroom.
Polished and honed aren't the only finishes that you can find in stone tiles. This Belgian Blue has been given a tumbled or antiqued finish that provides it with a softened, varied edge and rounded corners. Combined with the deep color and large size of the tiles, it gives an updated look to more informal areas like family rooms, mudrooms, and entryways, while still providing a rustic or old-world charm. One of the best things about slate tile is the way that its many colors and textures help disguise things like spills in the kitchen. This Indian Autumn slate has a matte finish and a warm color that contrasts beautifully with the contemporary cabinets while making a practical and efficient floor for the entire level of the home.
Our Blogs:
We have other blogs related to the Stone, Tiles and Grout, Here are a few:
In recent years, grey has dominated the design world like nothing else, gracing everything from high-end furniture to high-street fashion. And while grey floor tiles have always been popular, over the last eighteen months we've seen an influx of exciting new designs that have elevated this humble hue. But if you want to go grey, it can be hard to find your perfect tile – after all, there are more shades than you can shake a saucy book at. Fear not, we're here to help. Read on to discover all you need to know when it comes to grey floor tiles.
Different Types of Grey Floor Tiles
Grey tiles are unapologetically stark and minimal, right? Well, that's partially true. While a good deal of today's grey tiles is intended for modern floor spaces, there are plenty of designs that offer a different touch. There are wood effect planks with a rustic feel, marble-style slabs that scream luxury,d patterned pieces for a retro vibe. Let's take a closer look at some of the most popular types of grey floor tiles.
Concrete Effect Grey Tiles
Create a seamless, uncluttered look in your living space with oversize, concrete effect floor tiles. They're ideal for injecting the modern, minimal touch.
Grey Patterned Tiles
If you want a work of art under your feet, grey geometric tiles are a great place to start. They're a practical way to add a fun, playful touch to any room.
Grey Wood Effect Tiles
Calming and elegant, grey wood effect tiles are the ideal backdrop for open-plan kitchens.
Grey Hexagon Tiles
Interesting shapes and sizes are a great way to add life to a smaller space.
Grey Stone-Effect Tiles
When it comes to stone tiles, we naturally think of cream and beige tones. But grey stone tiles can be soothing; here, they transform a bedroom into a cocoon of calm.
Sizes of Grey Floor Tiles
Along with open-plan living spaces, a key trend in interior design is for 'flow' from room to room. Large format floor tiles are key to this style; with fewer grout gaps they give the appearance of seamless floor space.
Plank-tastic
Style begins beneath your feet so turn your living room into a designer abode with grey wood planks. Their naturally long shape draws the eye; stagger the joints at random for a more organic feel.
One Size Fits All
Although tiles might come in all manners of shapes and sizes, we think the humble 30 x 60 cm could just be the perfect fit. Big enough to command attention yet slender enough to fit into these tiles for almost any space. Lay with a brick-bond pattern and you've got a new floor that'll outlast any fashion whims.
Looks You Can Achieve
Neutral has always been a go-to choice, but with so many grey tiles around it can be difficult to know where to start. There's something on offer for everyone, whether you're after pared-back minimalism or in search of a dramatic style statement. So for a little inspiration, we've broken down some of our favorite ways to play with grey. The sky, as ever, is the limit.
Understated Glam
living doesn't always mean over-the-top opulence. A restrained grey palette can be just as indulgent, especially with polished grey floor tiles.
Timeless Elegance
At first, grey might seem intimidating but it's all about how you use it – darker tones can help make a room feel cozy. Here, the deep stone palette provides an elegant base for what could easily be a relatively stark space.
Country Style
If you fancy a bit of classical style for your floors, grey's probably not the first color that springs to mind. But not all grey tiles are modern and minimal; pick one with subtle movement and texture for a quiet, rustic appeal.
Urban Chic
Loft living has moved beyond a strict monochrome palette; these days, the balance between past and present is key to the city-living aesthetic. Here, large-format porcelain tiles act as a canvas for the rest of the space. Exposed fittings and retro furniture add oodles of soul.
Living Space
Fact – grey is here to stay. But even if your tastes change over time it's worth investing in grey tiles – you can simply change the rest of your decor when you need something new.
Bathroom
For an up-to-date look, opt for grey porcelain planks in your bathroom. Not only do they look just like real wood, but they're also virtually waterproof so you don't need to worry about splashes or puddles.
Outdoor
Whilst we don't always get the sun, there's little doubt that here in the UK, we're big fans of al-fresco living. So why not continue your new floor tiles outside? It's the perfect way to enjoy the indoor-outdoor lifestyle.
Kitchen
Kitchens present a challenge to floor tiles: not only must they be great, but they must also perform at the highest levels. Grey tiles are guaranteed to work with almost any existing decor; they'll also take all the spills and stains from family life.
What is the best natural stone flooring?
Marble As the king of natural-stone flooring, marble is the best choice for homeowners who want to make a classic and elegant statement. Marble tends to be an expensive flooring material, but the look of polished marble floors, exceptionally creamy varieties such as Carrara, is certainly worth the investment.
Which is the best stone or tiles for flooring?
6 Stone Floors Best Suited are
Marble. Timeless and highly durable, marble is an excellent choice if you desire an ambiance of both luxury and antiquity. …

Granite. Granite is a hard-edged stone with a beautiful natural grain. …

Slate. Slate is a handsome porous stone. …

Sandstone. …

Limestone. …

Travertine.
Is tile cheaper than stone?
Ceramic tile is also generally less expensive than natural stone.
How much does stone tile flooring cost?
Cost. On average, the total cost of stone flooring will range from $8 to $47 per square foot. However, the actual cost of a finished project will depend on the size of tiles, type of stones, complexity, and the degree of subfloor preparation required to install. Contact Ultimate Finish Stone Tile & Grout Inc for a free estimate.